In Memoriam
Colonel William McCulley Harris, Jr.
U.S. Navy, U.S. Army J.A.G. Corps
10 November, 1927 - 16 April, 1983
University of Georgia law school frat party with an unidentified date, Athens, Georgia, circa 1949. Dig the galvanized steel serving drum of brewski, obviously not his first of the evening.
Amman, Jordan, 1962.
Major William M. Harris, Jr., left.
Three other unidentified US Embassy attaches in between.
King Hussein of Jordan, far right.
Official Royal Jordanian State Photo.
Our house on Graham Road, Fort Sam Houston, San Antonio, Texas, 1968.
Lynne & I sitting on the front steps. Photo by Dad.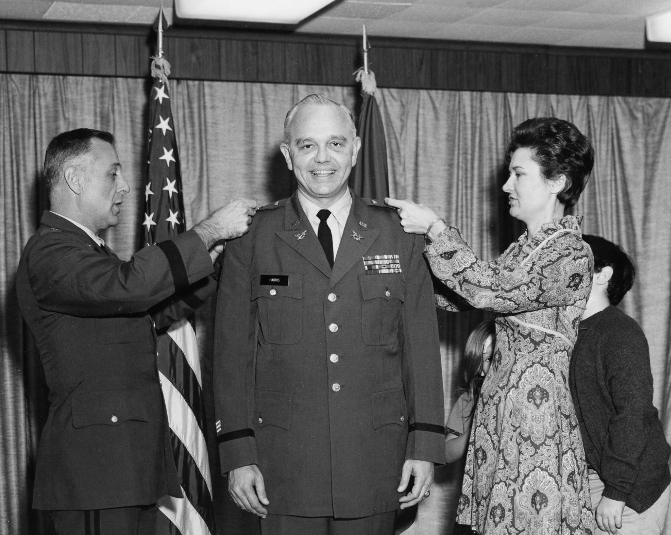 Hunter Army Airfield, Savannah, Georgia, 1972. Promoted to full colonel. Lynne and I are doing our best to hide behind Mom, who is placing a silver eagle on his left shoulder. Brigadeer General E. Mike Lynch places the right eagle.
Official U.S. Army photograph.
San Diego, California, summer, 1945.
U.S. Navy boot camp graduate, age 17.
San Francisco Bay, December, 1946.
Veteran, age 19.
Pearl Harbor, Hawaii, 1945 with a buddy identified as Jacobs in the bow doors of their LST.
Giza, Egypt, 1962.
Before I was part of the equation, Major & Mrs. Harris travelled extensively through the Middle East of the era. This photo was taken after Dad lost an argument with Mom about getting on camels. Dad said it was silly and for tourists. Mom pointed out they WERE tourists and put on the fez because we're doing this. Mom's logic was irrefutable, so they put on fezes and here we are 60 years later. Knowing Dad, he didn't want to look silly in a suit and a fez on a camel.
Photo by some enterprising Egyptian camel herder who invested in a camera & tripod. Gotta respect a good hustle.
Dad did.
"Apply yourself, maximum effort always, do your best or don't bother. Half assed is worse than not doing it all." He always lived this example. His C.O. noticed.
William M. Harris, Jr. was a rare combination of a hard man with a very keen intellect and a very gentle heart.
He and his best friend were plotting to run away from home at age 16 to join the U.S. Navy as high school graduation approached in 1944. An adult who knew their parents overheard them and told both families.
William M. Harris, Sr. and the other family confronted them, and after they confirmed it was true, they said they were still going to do it, with or without their permission. They were able to talk him into attending Georgia Tech, but like most of that generation, he wanted to join the war effort.
Seeing the determination in both young men, consent forms were signed and Dad enlisted in the U.S. Navy on 26 March, 1945.
Navy boot camp and then set sail for the South Pacific as a machinist's mate on an LST.
This is also very much a work in progress. It's very humbling to go through his personal papers and note his accomplishments and achievements and his age at the time. As an illustration, when I turned 40, I'd earned a Master's degree and owned a small business. When he turned 40, he was a Lt. Col., U.S. Army J.A.G. Corps lawyer, wrote and spoke fluent Arabic after learning both in eleven months at the U.S. Army Language School at the Presidio in Monterey, California, had earned a Master's degree with Arabic intsruction at American University of Beirut, Lebanon, and his 40th birthday party was at General Westmoreland's HQ in Saigon, Republic of Vietnam.
Republic of Vietnam, March,1968.
I'd bet my last dollar this is a ceremony marking the occasion of Dad's completion of his tour of duty. The medal he's wearing appears to be from the Republic of Vietnam. He's speaking. The man knew how to hold a room spellbound.
Republic of Vietnam, 1967.
Lt. Col. William M. Harris, Jr., left, Col. Joseph M. Palmer, Sr. right.
Col. Palmer was Dad's brother-in-law.
Uncle Joe to us kids and Big Joe to the rest of the family.
U.S. Army Judge Advocate General Corps & U.S. Army Corps of Engineers.
Well represented by these two officers, soldiers, scholars & gentlemen.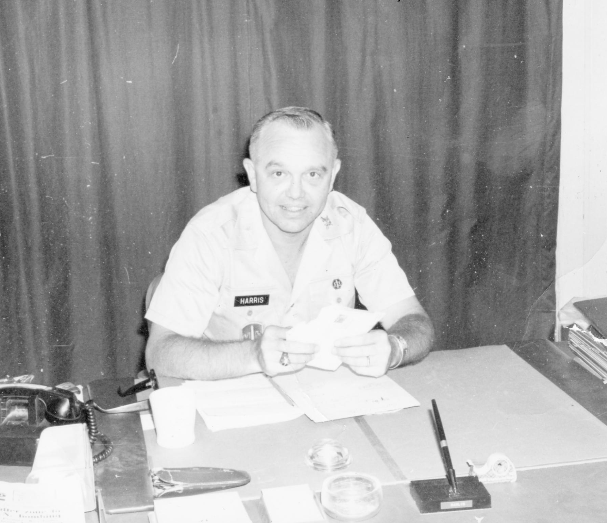 Saigon, Republic of Vietnam, 1967.
Lt. Col. Harris on duty at General Westmoreland's HQ., MACV.
Beirut, Lebanon, 21 December, 1960. Congratulations, Major & Mrs. Harris
Fort Benning, Georgia, 1974. Colonel Harris is awarded the Legion of Merit by an unidentifed superior.
Official U.S. Army photograph.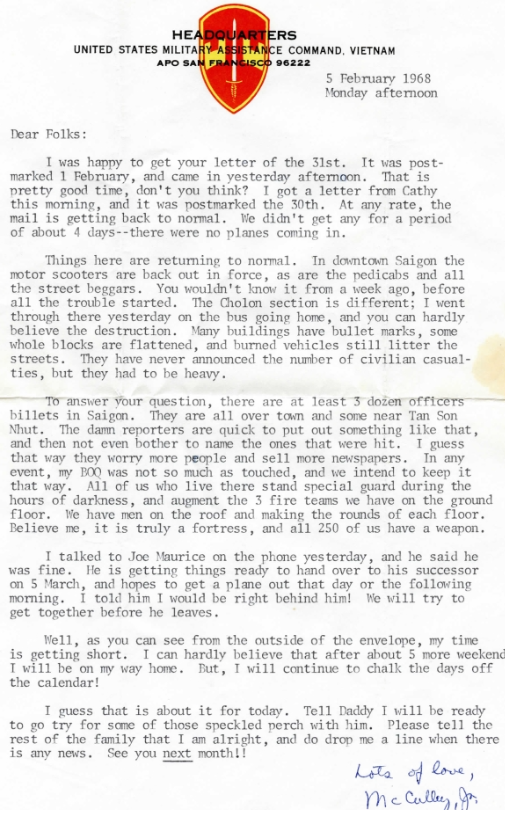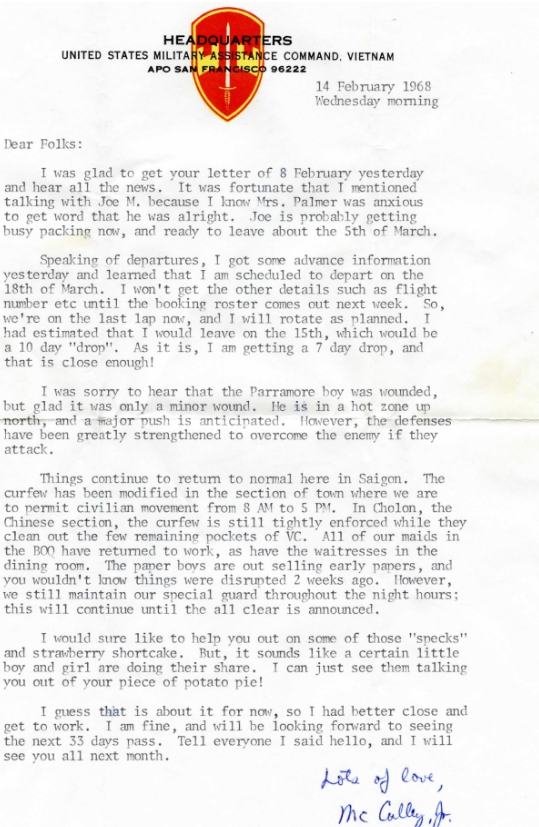 Letters were how people kept in touch in 1968.
From The Republic of Vietnam to The World.
Dad's final letters before returning to CONUS.