Brinson M. Harris Ipse
I reveal very little about my nonprofessional self, and that's intentional.
That information is need to know, and no one does.
I've included images with my late sister, Lynne, whose tribute page is now online.
Cathron B. Harris, my Mom, is still with us. Out of respect for her privacy, no tribute page yet.
My ID from Public Access Television, photo from San Antonio, Texas, 1970.
I did not like my new school and it shows.
Tampa, Florida, 1966.
I've realized I'm no longer the center of attention.
Lynne checks out my race car.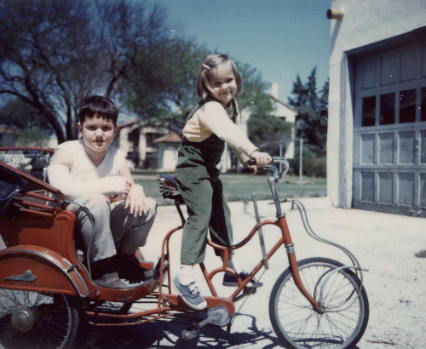 San Antonio, Texas, 1969.
Lynne in the driver's seat as usual.
Beirut, Lebanon, May, 1963.
Smell of salt air from the Med and the sound of many, many Fiat horns.
I shall return.
I appear nowhere in this video.
Florida fauna, 2020.
It doesn't count as social media because I never check
to see if there are any "likes." No validation needed.
That was then. All business these days. Depositions, Document Signings, Living Wills, Compulsory Medical Examinations, Psychological Evaluations, Day-in-the-Life, Special to Task--anything the client needs documented on HD video.
And finally, for now, fragments of a sliver of a remnant of a scrap of a slice of a sample of a multi-media whatever I was working on when life served up events that demanded all of my time.
Once upon a time it was on Public Access TV, almost like social media minus the insults and profanity because it was all real world, face to face, before rude AF became the default behavior paradigm in interpersonal communication.
Project Res Ipsa Loquitur is a search for The Great Truth of Mass Media, using moments of truth my CRM-114 Discriminator grabs from the mediaspehere in real time using the AE-35 High Gain Antenna, and plays it back in narrative form on a monitor near you.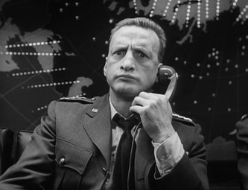 Post post script. The original world wide headquarters for Virtual Telvision, Inc. It was also home from 3 February, 2000 to 15 October, 2014. This is the only pic I have of it. Bulldozed within weeks of the sale. Only two of the seven oak trees seen here were saved.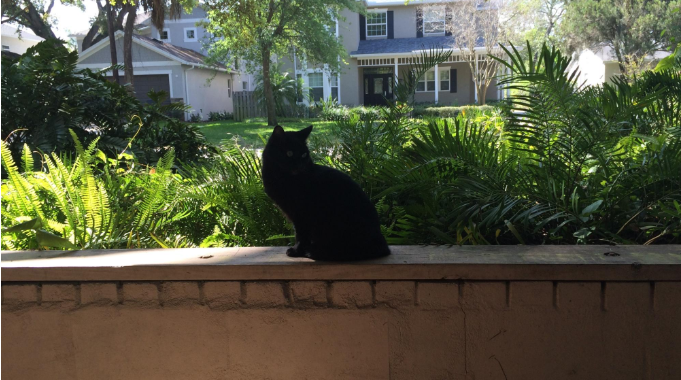 ViKi, the virtual kitty & company mascot.
She's long gone too. I miss her. Great little kitty.
Post Script: The Motel 6 in Landover, Maryland, 1990.
Spring tour and The Grateful Dead were playing at the Capital Centre, demolished in 2002.
The scene's long gone, but I got to live it. Good times.
Closing thoughts. I harbor no illusion that any human eyes will ever look at this page, and I care less and less about maintaining a presence on the web. I'm really only here because it's expected of all businesses to have a website.
So I have one. Bravo Fox Delta. I put very little effort into this site because my real responsibilities are in the real world. Which this is not.
Over the years, the vast majority of referrals I've gotten have been word-of-mouth, and what I get from the website are the types that ask my rates, then make a counter offer. My response: We're not in negotiations. I'm too expensive for you? Find somebody cheaper.
In my experience, poormouthing during the initial call is a harbinger of trouble getting paid once the work is done. I actually had a claims adjuster from some no-name-o insurance company respond to my rate quote with "Is that your FINAL answer?" That was back when that stupid game show was all the rage. I said yes. He then asks "Is there any way I could get a discount?" Nope. No way. I told him he couldn't rent the equipment for my quote, and I'm not into climbing down the ladder of success. If I agreed to his low ball offer, I'd have cut my own throat if a REAL job came along, and they always do.
Life is tough on the Serengeti and nice guys finish last.
Professionals finish first. Over and over and over.
Brinson Actual Out.